Mermaids (and mermen) adore the details that make up our Tybee cottage swoons.  Will It Go Round In Circles has us thinking about our love of décor, architecture and the little surprises peeking out from our little color boxes. Circles are frequently used as sun symbols and as representing things associated with the sun.  Likewise, circles can also signify unity, wholeness and infinity.  We just love how circles frame up the best features of our Tybee tiny houses.  They've got us all wrapped up with hugs and here are some of our favorites.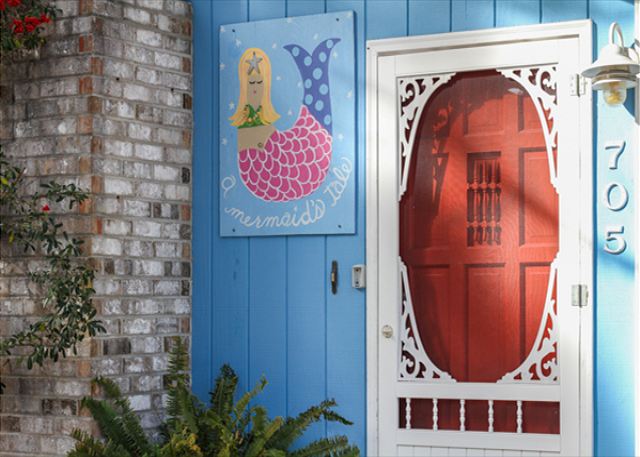 You had us at first sight of this screened door.  Doesn't this just say, "All who enter here are welcome…"?  Inside, you'll find two wonderful master suites and a spacious, open living and dining area!
You'll see the light with this oyster shell chandelier overhead.  It's just one of the charming details you'll find in this pet friendly, three bedroom, three bath charmer.
Come now.  Just how cute and fun can an outdoor shower be?  Well, just reach up  and grab the shower curtain attached to the semi-circular frame.  Say "swoosh" as you close off all of your worries and cares from the outside and wash away your troubles.  Guests love this light, cheerful cottage!  It comes with a screened porch, fenced-in yard, and partial marsh views from the back deck and the porch!
Can polka dots make you happy?  You bet they can.  Especially, when they dot the shutters and the outside shower of this cottage on the marsh.  Just wait 'til your eyes light up and the corners of your mouth turn up.  That's what'll happen when you watch the amazing sunrises and sunsets here.
Our favorite circles?  Yep, you guessed it.  The smiling, round faces of our guests who celebrate their love of
Mermaid Cottages
, Tybee Island and for each other.  We are family.  Circle back around and create some cottage swoons you'll never forget.