Enjoy these  Tybee Island cottages for your end-of-summer and fall getaways.  It's that time of year when parents start preparing their back-to-school checklists while still dreaming of another beach trip to our beautiful Georgia coast.  Luckily, our mild weather continues all the way up through Labor Day and that means you'll have plenty of time to make several last minute trips to our beautiful beaches. The hardest part will be choosing between these delicious Tybee Island cottages and historic beach homes!
Bedrooms: 3 Bathrooms: 2 Sleeps: 10 Pets: Cats, Dogs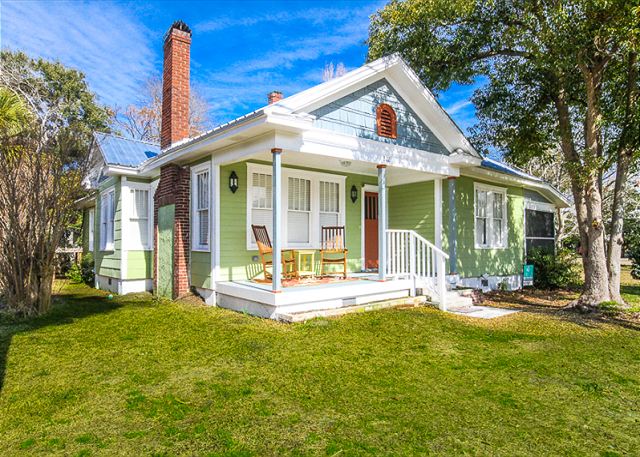 Guest Rating
:

Have you ever stayed in this renovated historic Tybee beach cottage? It comes with two porches to relax in and enjoy. One is screened in and the front porch sports the most comfortable rockers. It's located in the quiet, Back River district of the island with a partial view of Back River. It's also close to the Alley 3 Kayak Launch area!
Bedrooms: 4 Bathrooms: 3 Sleeps: 10 Pets: Cats, Dogs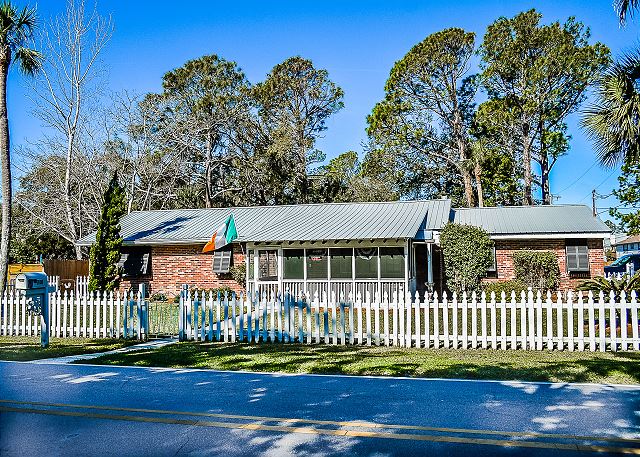 This spacious cottage sleeps 10, is pet-friendly and it's loaded with lots of fun amenities. It's ideal for your family or a large group of friends. Guests especially love the hot tub, the large TVs, the outdoor patio and shower and Granny's Game Room!
Bedrooms: 4 Bathrooms: 2 Sleeps: 8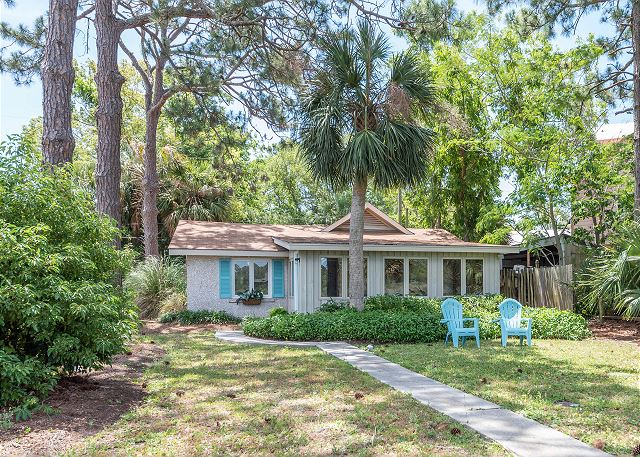 This quiet, relaxing and peaceful home in situated on Horsepen Creek. A social distancing vacation is so easy to enjoy here as you'll have your own private dock.  This is a ground level cottage that's especially convenient for guests who'd rather not have too many steps to navigate. It's just one block from A-J's Dockside Restaurant and a short six blocks to the beach!
Bedrooms: 3 Bathrooms: 2 Sleeps: 6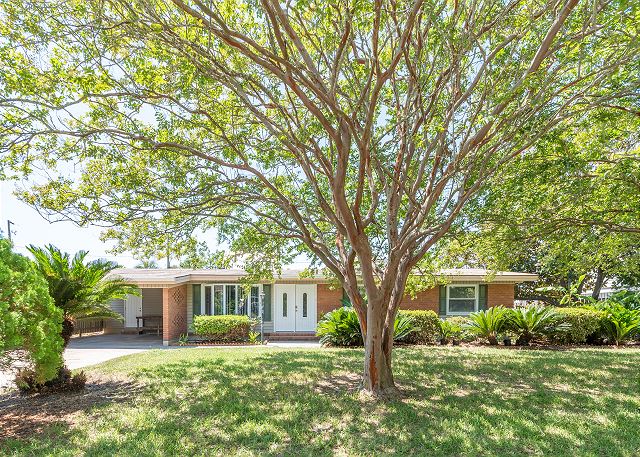 Come on down to enjoy AfterDune Delight. It's a very delightful cottage for warm weather visits and it's also a favorite of our Snowbird Guests during the winter.
Bedrooms: 2 Bathrooms: 1 Sleeps: 4 Pets: Cats, Dogs
Pack your wags as this little polka-dotted paradise is dog and cat Friendly. Just imagine how much more enjoyable working would be from this cottage with complimentary WIFI.  It's a very affordable and value priced, family cottage. Solo travelers and couples love that it's located on the marsh with amazing sunrises and bird watching, too!
Bedrooms: 2 Bathrooms: 1 Sleeps: 4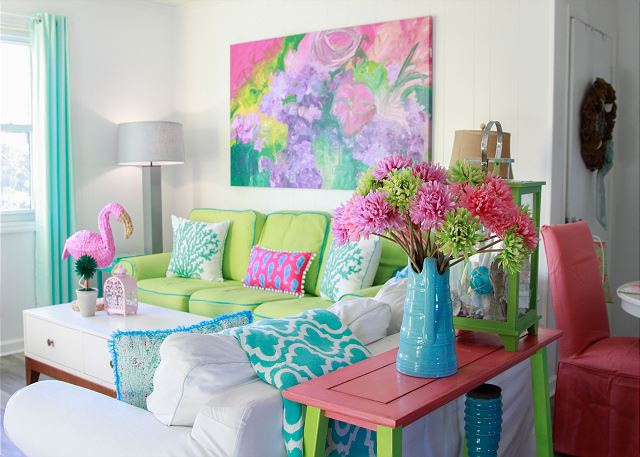 We could all use a bright and cheerful cottage that's also full of fun. Coastal Joy is a two bedroom, second story duplex on the south end of Tybee. It's close to the beach and newly renovated with lots of color and personality. Guests are loving it's brand new deck for morning coffee, al fresco dining and relaxing!
Bedrooms:

2 

Bathrooms: 1 Sleeps: 4 Pets: Cats, Dogs
Our Mermaids are fins up over our newest Mermaid Cottage. It's a delightful, pet-friendly cottage that's brimming with beach charm! Experience the joys of a wraparound screened porch with plenty of seating. It's already filling up fast, so make your reservations before it's all booked up!
Bedrooms: 3 Bathrooms: 2 Sleeps: 7 Pets: Dogs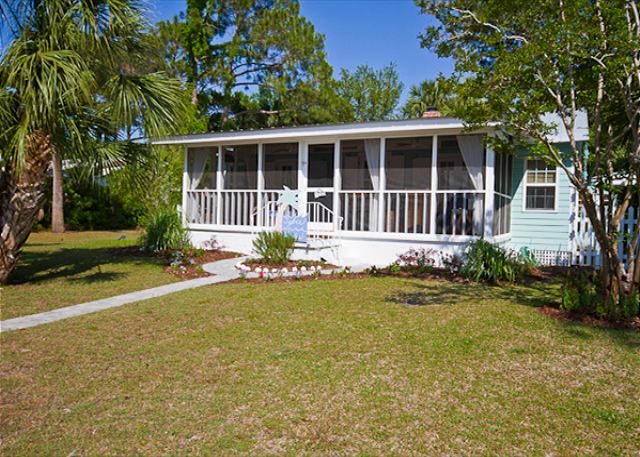 This 1930's pet-friendly cottage is always a favorite and it has a very loyal following. Guests rave about its large fenced yard and it's screened front porch. The marsh views are perfect for our marvelous nightly Tybee Island sunsets.
Bedrooms: 3 Bathrooms: 3 Sleeps: 6 Pets: Cats, Dogs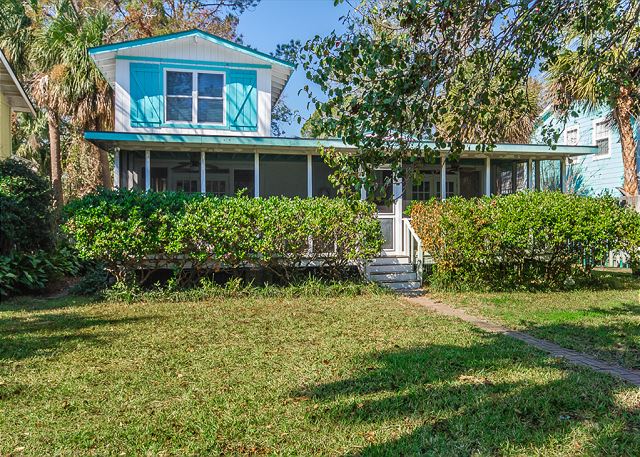 Repeat guests come back often to enjoy this charming vintage cottage. Families love the layout and we get many requests for girlfriend getaways, too. The new private pool is delightful and the fully fenced back yard is is a perk for your pets.
Bedrooms: 3 Bathrooms: 1 Sleeps: 6 Pets: Cats, Dogs
Here's another charming and cozy cottage that's a favorite of  pet-friendly families! Just four short blocks from the beach, guests love the outdoor shower and that the yard is surrounded by live oaks and palms. History buffs adore the decorative details throughout the cottage depicting the history of Tybee Island and the Chu family!
Bedrooms: 3 Bathrooms: 2 Sleeps: 6 Pets: Dogs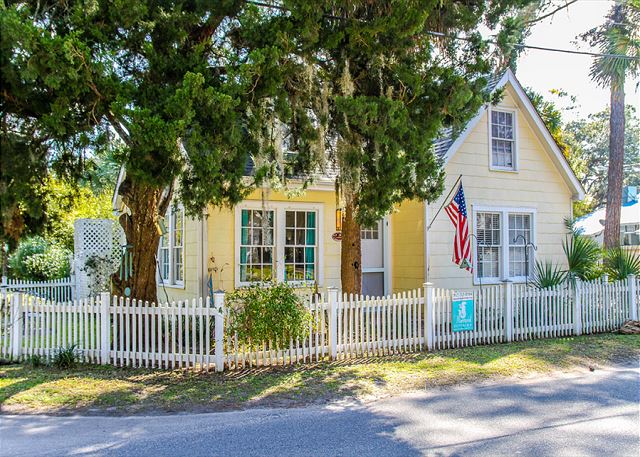 This is a most unique cottage that's full of vintage art and wonderful personal touches. It's located in the Logan Street/ North Beach area with a pleasant 10 minute walk to the North Beach. Pets love to relax within the small fenced yard.
Bedrooms: 3 Bathrooms: 2 Sleeps: 6 Pets: Cats, Dogs
This ground level and pet-friendly cottage recently benefitted from a very extensive renovation with all new furnishings.  It's just blocks from the beach and all fluffed and styled for your most enjoyable summer vacations!
Bedrooms: 2 Bathrooms: 1.5 Sleeps: 5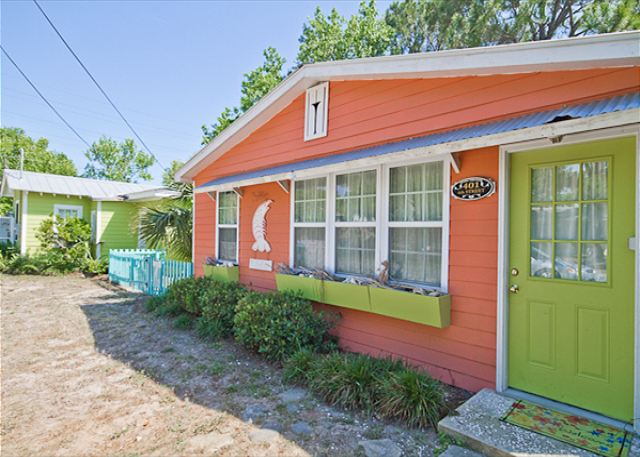 Everyone who stays here loves this bright and cheerful beach cottage. Guests always rave about it's ground level convenience and its screened porch. You'll be just three blocks to the beach through Memorial Park which includes Tybee's favorite children's playground.
Bedrooms: 4 Bathrooms: 3.5 Sleeps: 8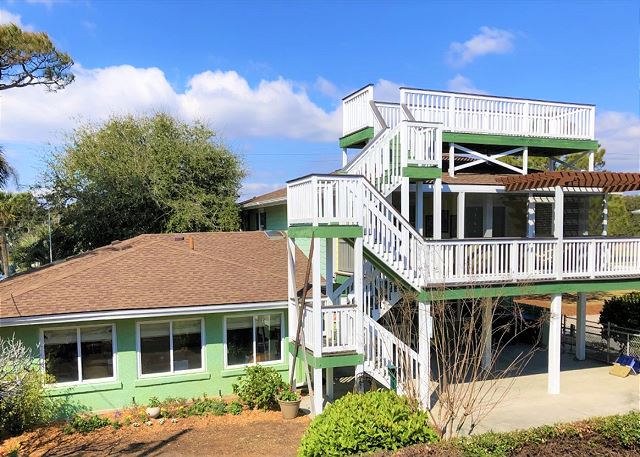 The curb appeal of this beautifully renovated and raised Tybee cottage is complimented by being on the beach side of Butler Avenue. Guests love that there's no crossing the street to get to the beach!
Bedrooms: 2 Bathrooms: 2 Sleeps: 4 Pets: Cats, Dogs
Another fan favorite, Sea Largo is three blocks from the beach. The convenience of being ground level and pet friendly with a fenced-in yard can't be beat. As with all of our Tybee Island cottages, complimentary WiFi is included, so make your work-from-home experience more inspiring on the large screened porch or on the wonderful deck beneath the oaks.
Bedrooms: 3 Bathrooms: 1.25 Sleeps: 6 Pets: Dogs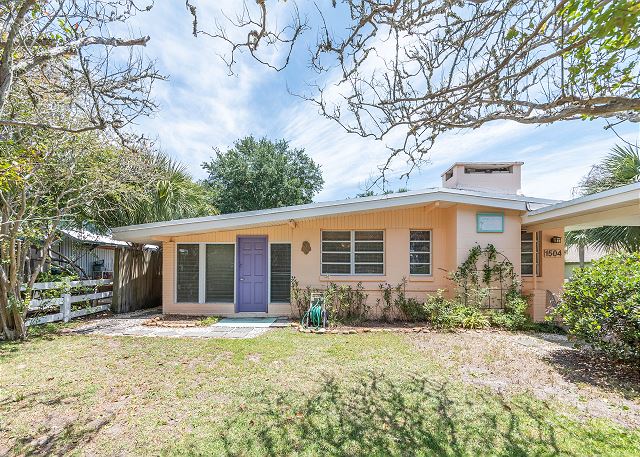 The list of guest amenities is long and most enjoyable. It's pet-friendly,  mid-century modern ground level, has a large fully-fenced back yard and comes with your very own Tybee Tiki Hut! Indulge in awesome views of Back River sunsets and being just 1.5 blocks to the Alley 3 kayak and paddleboard launch site. Enjoy leisurely strolls to AJ's Dockside Restaurant and easy walks to the beach.
Hard choices? You bet and that just means you should come often and experience each one of these Tybee Island cottages. Reserving one is always easy right on our website or with our vacation planners at 912.704.4618!