Rain Porches and Mermaid Cottages go together like cottage charm and coastal calm. The slanted roofs that hang out over them do serve a purpose.  They help protect our happy little homes by the sea from wind and rain and their designs help the overhangs adjust to the dampness and the humidity. No matter their functional aspects, it's the very calming and romantic serenades they produce with the rain that makes them so desirable and enjoyable.  Porches with ceiling fans and screened additions help extend our porch-sitting season and when these roofs shield us from the wind and direct the rain away from our rockers and swings the tunings of the rainfall delight and enchant. These are some of our favorite rain porches and mermaid cottages.  Have you enjoyed rainy days during your Tybee Island visit?
Bedrooms: 3 Bathrooms: 2 Sleeps: 6 Pets: Dogs
We adore this vintage and
pet-friendly
Tybee beach cottage. This ground-level, tin-roofed cottage, on Tybee's southeastern end, is cottage living at its finest with plenty of gathering space for guests.  large screened-in porch off the living room has an extendable futon that can be used to sleep an additional person. Imagine a delicious afternoon nap under this tin roof porch when it rains!
Bedrooms: 2 Bathrooms: 2 Sleeps: 6 Pets: Cats, Dogs
This restored 1940's beach cottage is full of cottage charm. This large screened porch is the perfect place to sit and enjoy your
Mermaid Morning Bliss Coffee
, afternoon and evening cocktails, and rainy days with your dog at your side!
Bedrooms: 2 Bathrooms: 2 Sleeps: 4 Pets: Cats, Dogs
This is a Tybee landmark originally built as a soldiers' mess hall that has been completely restored and preserved. It's pet-friendly with a fenced yard and a wraparound screened porch.
Bedrooms: 3 Bathrooms: 1.5 Sleeps: 6 Pets: Cats, Dogs
This is an amazingly bright, cheerful cottage. The luxury of its screened porch is enhanced by the partial marsh views from the back deck and porch. It's also pet-friendly with lovely garden seating.
Bedrooms: 3 Bathrooms: 2 Sleeps: 8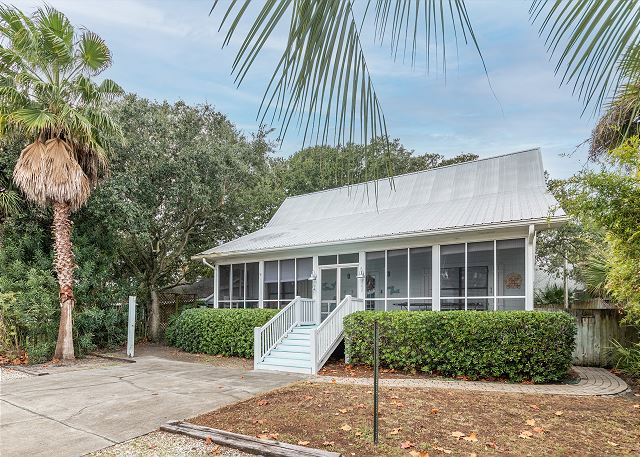 This classic ground-level Tybee Cottage comes with screened porches on the front and back of the cottage! There's a great outdoor fire pit with seating when it's not raining, too.
Bedrooms: 3 Bathrooms: 1.5 Sleeps: 6 Pets: Dogs
Here we have a historic 1940's cottage that's ground level with a wonderful screened porch, outdoor shower and private back deck. Whether reading the latest
Mary Kay Andrews
beach novel, playing board games, or simply enjoying iced sweet tea, this is one of our favorite porches to recline and relax.
Bedrooms: 2 Bathrooms: 1 Sleeps: 4
This charming restored 1930 coastal cottage is by designer
Elizabeth Demos
and it's perfect for a small family, a couples getaway or a solo traveler. The screened porch captures the delectable ocean breezes on sunny days and creates the most divine concerts with the rains when they come to visit.
Bedrooms: 3 Bathrooms: 2.5 Sleeps: 7 Pets: Dogs
Here you'll find the other half of a duplex with Enlisted Mens Mess Hall.  Again located in the quiet, historic Officer's Row section of North Beach and Ft. Screven. It's a ground-level delight with a porch that welcomes you home each time you visit.
Bedrooms: 3 Bathrooms: 2 Sleeps: 7 Pets: Dogs
This 1930's pet-friendly cottage has a large fenced yard and a screened front porch. The marsh views are perfect for the marvelous nightly Tybee sunsets.
These are just a sampling of rain porches and mermaid cottages. You don't have to wait for the rains to come to enjoy them. Just know you're in for a very special treat if you're here when the rainy days, the tin roofs, the porches, the love and the laughter create a truly magical stay for you!