Seven Mermaid Cottages are decked out for Christmas. So many have spent the past year in quarantine and separated from friends and family, we're recommending you think outside the house for your Christmas and New Year's celebrations. Gather you loved ones on Tybee Island where you can even request your cottage be decorated upon your arrival.  We'll deck the halls, put up a tree and hang the ornaments. All you have to do is open the door and walk into your ready-made holiday home away from home. Then, open your cottage doors out onto their charming coastal decks and outside oases!
Bedrooms: 2 Bathrooms: 1 Sleeps: 4
This classic 1930's beach cottage is on Tybee's original cottage row. It has a tin roof, bead board walls, pocket windows, and a picket-fenced yard. Guests love that it's less than 100 steps (99 1/2 to be precise!) from the beach. It has a very private beach access. This quaint, quiet retreat is on a private road within walking distance to great restaurants and shopping, too. A Little Salty, Coastal Joy and Madelyn's On The Marsh are also alternate choices.
Bedrooms: 2 Bathrooms: 1.5 Sleeps: 5
The Shrimp Cottage sits directly across the street from Memorial Park with wonderful family fun activities! The park includes a large children's playground, tennis courts, outdoor volleyball and basketball courts. The beach is a short 3 block walk through the park. It's located next door to Key Lime Parrot Cottage making it perfect for multiple families who want to be close to each other but have their own space. It's also down the street from Mermaid Row ~ Beach Bubble Bungalow, Mimosa Cottage and Maddie's on Jones for even more family or group closeness!
Bedrooms: 3 Bathrooms: 2.5 Sleeps: 6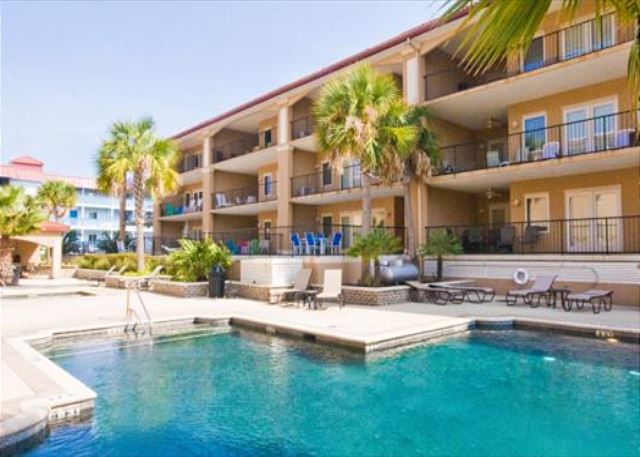 Two Mermaids is a beautiful Mediterranean style luxury condo at the Brass Rail condo community on the south end of Tybee on the beach side of Butler Avenue. Amenities include two private pools, outdoor sauna, elevators, and community picnic area. The community pool hours are 10am – 10pm and the pool is open all year round.
Other charming cottages to consider are AfterDune Delight, Crabby Pirate, Fish Camp, Maddie's On Jones, The Sail Loft
Bedrooms: 3 Bathrooms: 2 Sleeps: 7 Pets: Dogs

This 1940's vintage cottage is located on a quiet street only 5 blocks to the beach. Full of original art by the owner and located close to the Back River Beach, fishing pier and Alley 3 Kayak area.
Bedrooms: 4 Bathrooms: 2 Sleeps: 8
This quiet, relaxing and peaceful home is on Horsepen Creek. Celebrate Christmas and New Year's on your own private dock! It's also ground level and ideal for older visitors and families. You'll be one block from A-J's Dockside Restaurant, 6 blocks to the beach! You may also like Vitamin Sea, Mimosa Cottage, Marigold Cottage, Beach Haven, Back River Bungalow.
Bedrooms: 4 Bathrooms: 3 Sleeps: 10 Pets: Cats, Dogs
This spacious cottage is pet-friendly and full of lots of fun amenities! This is the perfect cottage for your family or large group. It has a hot tub, large TVs, an outdoor patio and shower, and Granny's Game Room!
…