We love the coastal colors of our Mermaid Cottages and they each have special and unique Tybee tints.  Looking for something in blue?  Well, on Tybee Island there's the sky.  The ocean.  The blue-gray of the dolphins who frolic and thrive.  Then, there are the blues of our cottages, their exterior trims, their shutters, their doors and their pops of blues throughout the interiors.  Whatever shade gives you calm and peace and that beachy vibe, you'll find them all here.
This little color box was recently redecorated with pops of your favorite
blue colors, inside and out!  It's an original Tybee cottage from the 1930's that's just two blocks to downtown and shopping, restaurants, the fishing pier and more.  It's ideal for a small family, honeymooners and couples.  It's all ground level and pet friendly, too.
This adorable single story cottage just pops with it's periwinkle shutters and door, doesn't it? It has three bedrooms, two full baths and a fenced-in yard.  Our guests especially love that it's pet friendly, has an outdoor shower and it's only four blocks to the beach!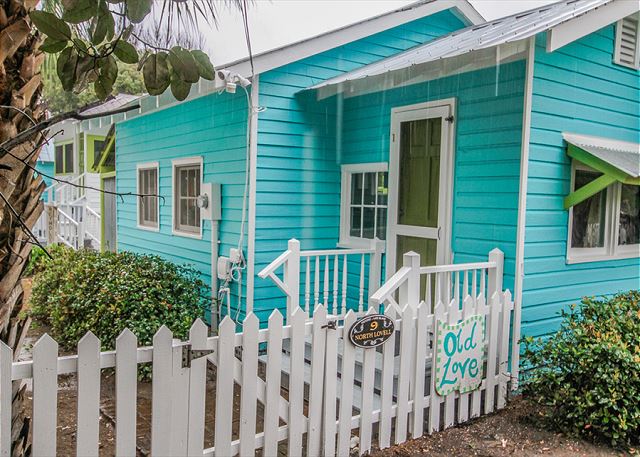 This is the perfect petite beach cottage! It's exactly 99 1/2 steps to the beach with your private beach path just outside the vintage picket fence.  Look at how the lime accents really pop against the new turquoise exterior and balances the white fence and trims.  A true original cottage!
Blues skies. Smilin' at me. You'll love these blues and marsh views from every room. This newly updated and decorated duplex overlooks the marsh and even comes with magnificent sunsets on the back private deck. It's only five blocks to the beach and very close to our hearts!
Don't you just love it when the blues are bright and cheerful and full of fun? Coastal Joy is a two bedroom, second story duplex on the south end of Tybee. It's close to beach and completely newly renovated with lots of color and personality! Just wait until you experience the brand new deck!
So, always look to Mermaid Cottages for your true blue, cozy cottages and find your perfect Tybee Tints.  Looking for something in blue has never been more fun!