We've got the best 11 cottages to celebrate Tybee for the holidays! Come for fall fun, Thanksgiving, Christmas and New Year's for grand adventures with family and friends, that special someone in your life or just right by yourself. We've got the perfect little homes with just the right touches of cottage charm and coastal calm for your needs.
Bedrooms: 2 Bathrooms: 1 Sleeps: 4 Pets: Cats, Dogs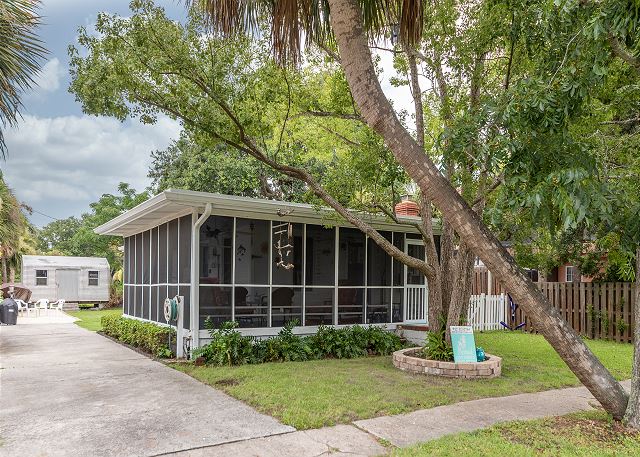 A Little Salty is a pet-friendly, adorable cottage brimming with beach charm! The charming wraparound screened porch with seating makes this a great location for entertaining inside and out. It's also close to the Back River Beaches, Alley 3 launch and AJ's Dockside restaurant.
Bedrooms: 4 Bathrooms: 2 Sleeps: 8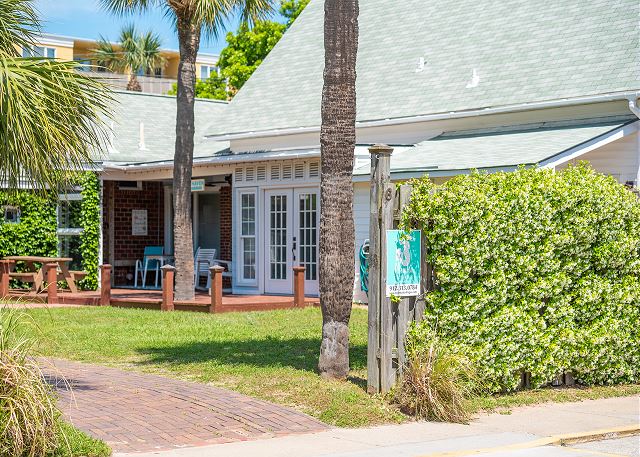 It's located on the beach side of Butler Avenue and just steps from the beach. Beach Haven Cottage is perfect for your next getaway! Get your reservations in now as this charming historic family beach cottage will fill up fast!
Bedrooms: 3 Bathrooms: 1.5 Sleeps: 8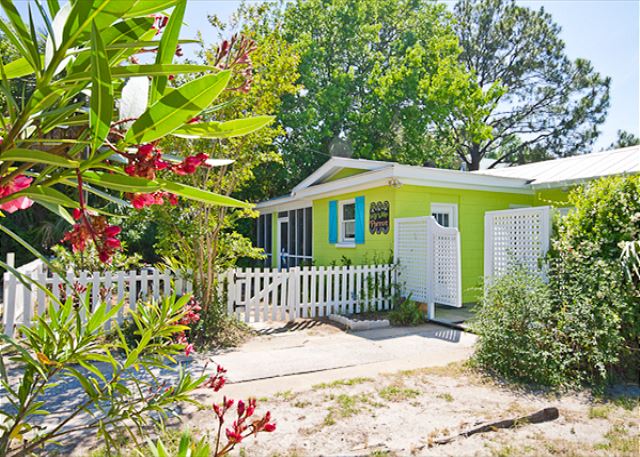 Welcome home for the holidays to this charming ground level cottage. Guests adore its screened porch and private outdoor shower. It sits directly across from Memorial Park playground, tennis courts, and the basketball courts.
Bedrooms: 3 Bathrooms: 1 Sleeps: 6 Pets: Cats, Dogs
This is another charming and Cozy pet-friendly and family-friendly cottage! It's always popular since it's only four blocks from the beach! Your the decor details throughout the cottage displaying the history of Tybee Island and the Chu family! Guests often remark how they love the outdoor shower and the great outdoor area surrounded by live oaks and palms!
Bedrooms: 2 Bathrooms: 1 Sleeps: 4 Pets: Cats, Dogs
Pack your wags as this amazing cottage is both dog and cat friendly. Stay and work or play with its complimentary WIFI. This is a very affordable and value priced, family cottage. It's located on the marsh with amazing sunrises and plenty of bird watching.
Bedrooms: 4 Bathrooms: 3 Sleeps: 10 Pets: Cats, Dogs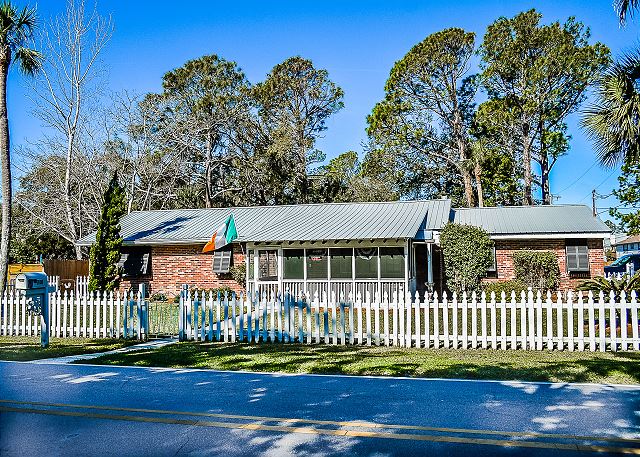 Bring the whole family down to this spacious cottage as it sleeps 10. It's pet-friendly with  lots of fun amenities, too. This is the perfect cottage for your family or a large group that enjoys a hot tub, large TVs, an outdoor patio and shower and Granny's Game room, to boot.
Bedrooms: 2 Bathrooms: 1 Sleeps: 4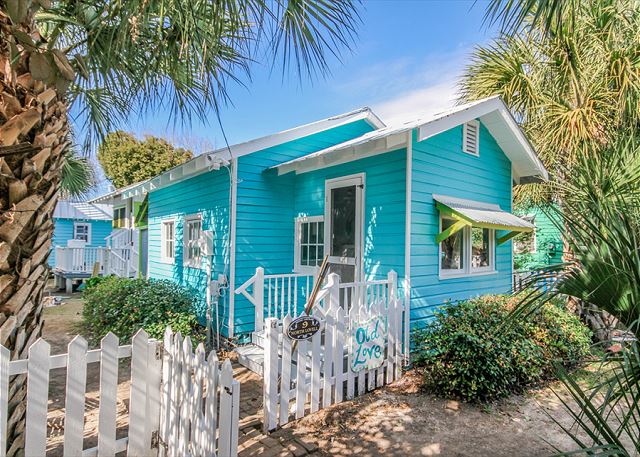 Guest Rating
:

Did you know that this vintage beach cottage is exactly 99 1/2 steps to the beach with your own private beach path just outside the cottage's picket fence. This little slice of paradise is ideal for honeymooners or even just one person. There's even a garden area, WIFI, and it's close to restaurants including Sundae Cafe and others!
Bedrooms: 2 Bathrooms: 1 Sleeps: 4 Pets: Cats, Dogs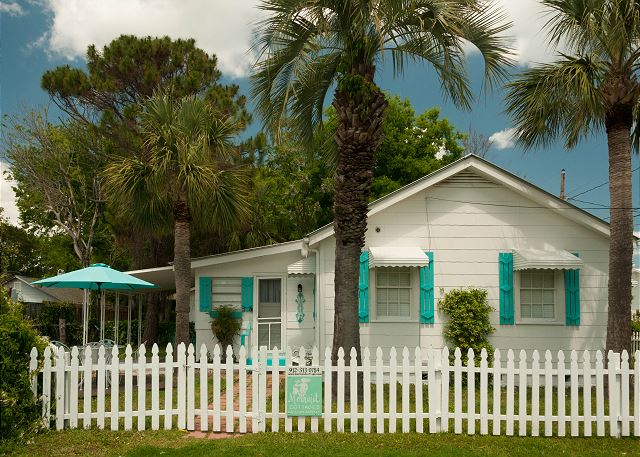 How about an original Tybee cottage from the 1950's that's been complete renovated. This pet friendly retreat is only two blocks to downtown Tybee with lots of shopping, restaurants, and the fishing pier. This home is especially ideal for a small family, honeymooners, and couples.
Bedrooms: 2 Bathrooms: 2 Sleeps: 4 Pets: Cats, Dogs
Guests love that Sea Largo is only three blocks from the beach. This ground level cottage is also pet-friendly with a fenced-in yard. There's complimentary WiFi and a large screened porch, as well as a wonderful deck beneath the oaks.
Bedrooms: 2 Bathrooms: 1.5 Sleeps: 5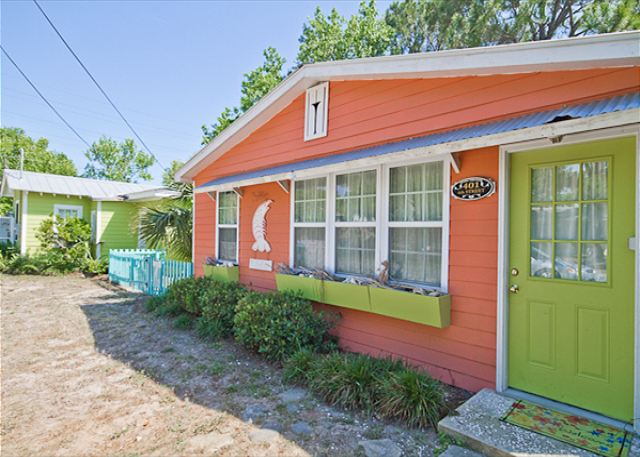 Here's another bright and cheerful beach cottage that's ground level with a glorious screened porch. It's just three blocks to the beach through Memorial Park which includes Tybee's favorite children's playground. It's also next door to Key Lime Parrot which makes it just right for special getaways for for two families who want to stay close to each other, but have separate cottages  to celebrate Tybee for the  holidays.
Bedrooms: 3 Bathrooms: 2.5 Sleeps: 6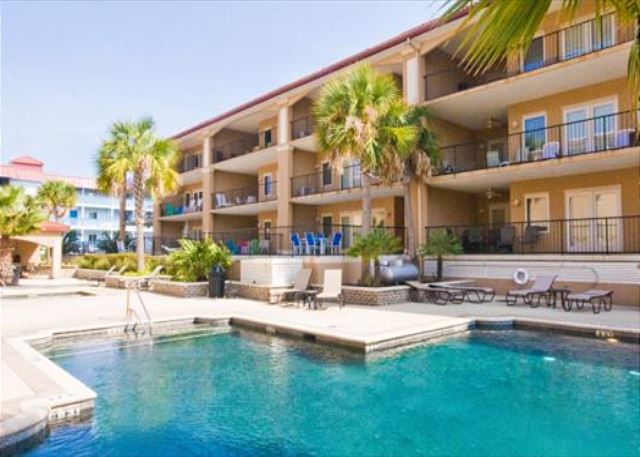 Enjoy this beautiful condo for your Tybee Island getaways. It's in a great location within walking distance to the beach and all that Tybee's south end and the Pier and Pavilion have to offer!
Our Mermaids are very much in the holiday mood and ready to share this very special collection of 11 cottages to celebrate Tybee for the holidays! Whether you want to celebrate one or celebrate them all, reserve your Mermaid Cottage is as simple as a few clicks on
our website
or with one of our wonderful vacation planners! Let's get started!