Slow down this fall with Mermaid Cottages. Say what you may, 2020 has taught us we can live, work, learn and play from anywhere.  One of the best ways to experience Tybee Island is to live like a local. Fall for a staycation that's close to home so you can enjoy the road trip. Then, slow down your your day. With no commuting to work or school, you can zoom call and virtual learn with our free high speed Internet, a brand standard. That leaves more time to eat, drink and be merry all around Tybee Island and Savannah. Slow down to accelerate your love of our cottage charm and coastal calm. Here are four Mermaid Cottages that will get you there in no time.
Bedrooms: 2 Bathrooms: 1 Sleeps: 4 Pets: Cats, Dogs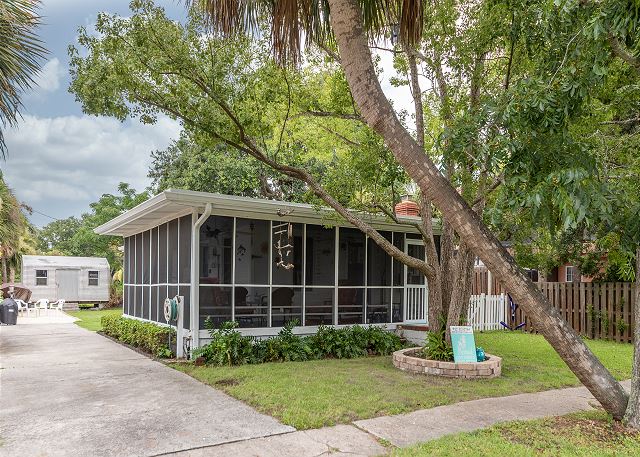 A Little Salty is a pet-friendly, adorable cottage brimming with beach charm! Guests love its wraparound screened porch with seating. It's in a great location that's close to the Back River Beaches, Alley 3 and AJ's Dockside restaurant.
Best Features: Large screened porch. Pets welcome!
Bedrooms:3 Bathrooms:2 Sleeps:6
This is a beautiful Tybee raised cottage with partial ocean views from the screened porch, It gets rave reviews for its convenient location on the south end. It's close to the beach, shopping and restaurants.
Best Features: Just steps to the ocean! Screened porch!
Bedrooms: 4 Bathrooms: 2 Sleeps: 8
When you're on the beach side of Butler Avenue it means you're just steps from the beach, Beach Haven Cottage is perfect for your next getaway. Get your reservations in now as this charming historic family beach cottage will fill up fast!
Best Features: Just Steps to the Beach and the Tybee Pier
Bedrooms: 5 Bathrooms: 3.75 Sleeps: 10 Pets: Dogs
Seacation is a wonderful, large family beach cottage that's on the south end and on the beach side of Butler Avenue. We can't wait for you to come and stay here!
Best Features: Just a block to the ocean. Large Screened Porch
Slow down this Fall with Mermaid Cottages!
Just how quickly can you slow down? With just a few clicks on our website or in a very delightful conversation with our Mermaid Vacation Planners. Hurry up! Your slow down vacation is waiting on Tybee Island!